The following article explains how to import Channeladvisor orders in One Stop Order Processing.

This feature is available in the Lite, Professional, Premium and Managed subscriptions of One Stop Order Processing.

If you follow the instructions below to import your Channeladvisor orders-
Export your file from channel adviser as an xls or csv file
Open the import dialog and click add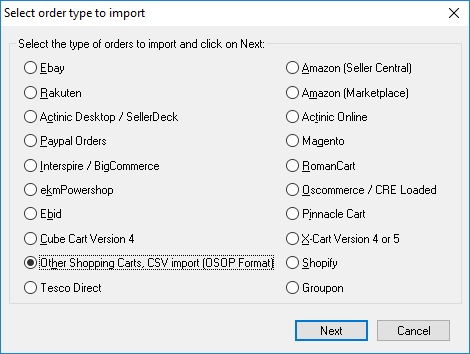 Select the "other shopping carts, CSV imports (OSOP format)" options

Click Next and attach your files.

Click Ok

If you are importing invoice data:

Set the Date format to be

YYYY/MM/DD HH:MM

Tick the use OSOP custom format option

Paste in the following header in the custom format box if you are importing invoice data

Invoice number,Sales source,Item title,Item ID,Item quantity,Sub-total,Invoice Email,Feedback left,SKU,Invoice Buyer ID,Item price,Item quantity,Invoice date,NA,Order ID,NA,NA,Payment Status,NA,NA,NA,Payment method,Invoice Address line 1,Invoice Address line 2,Invoice Address line 3,NA,Invoice Postcode,Invoice Country,NA,Courier,na,NA,NA,Custom:Entered val. 1,Invoice Firstname,Invoice Lastname,Invoice Company,Invoice Telephone,NA,NA,NA,NA,NA,NA,Grand total,NA,Total Tax,Tracking ID,Total P&P,Custom:Entered val. 2,Dispatch date,Custom:Entered val. 3,NA,NA,NA,Insurance,NA,Invoice County,NA,Total P&P tax,NA,NA,NA,VAT rate,Item tax,NA,NA,NA,NA,NA,NA,NA,NA,NA,NA,NA,NA,NA,NA,NA,Item Message,NA,NA,Item weight,NA,NA,NA,NA,Item title2,Item title3,Item title4,NA,NA,NA,NA,NA,NA

Paste the following into the paid box

payment cleared
Click Okay
Import your orders
If you are import Order Data Do the following:
Set the Date format to be

DD/MM/YYYY HH:MM:SS

Tick the use OSOP custom format option

Paste in the following header in the custom format box if you are importing invoice data

Invoice number,Checkout date,Grand total,Payment method,NA,NA,NA,NA,NA,Total Tax,NA,NA,Order ID,Discount,NA,Invoice Firstname,Invoice Lastname,NA,Invoice Company,NA,Invoice Address line 1,Invoice Address line 2,Invoice Address line 3,Invoice County,Invoice Postcode,Invoice Country,Invoice Telephone,NA,NA,NA,Invoice Email,NA,Custom:Entered val. 1,Custom:Entered val. 2,Custom:Entered val. 3,Custom:Entered val. 4,Custom:Entered val. 5,NA,NA,Delivery Firstname,Delivery Lastname,NA,Delivery Company,NA,Delivery Address line 1,Delivery Address line 2,Delivery Address line 3,Delivery County,Delivery Postcode,Delivery Country,Delivery Telephone,NA,Delivery Instructions,Courier,Shipping method,NA,NA,NA,NA,NA,NA,NA,Insurance,NA,NA,NA,Sub-total,NA,NA,NA,Item title,SKU,NA,NA,NA,NA,Transaction ID,Item quantity,Na,NA,Item weight,NA,NA,NA,NA,NA,NA,NA,Item P&P,Item tax,Item P&P tax,NA,NA,NA,Na,NA,NA,NA,NA,NA,NA,NA,NA,NA

Set the number of lines to ignore to 7
Tick "Mark all imported orders as Paid"
Click Ok
Import your Orders